Overview
Freedom of speech is the foundation of a healthy democracy. For a democracy to thrive, citizens must be able and willing to express and exchange ideas among themselves and with their representatives in government—and to assess options and potential consequences. Deliberation ensures that conflicting views can be heard, understood, and valued. Deliberating civic issues is not natural behavior; it requires instruction and practice.
Deliberating in a Democracy was designed to promote the teaching and learning of democratic principles and the skills of civic deliberation among a new generation in the United States, Eastern Europe, Russia, and Azerbaijan. This major initiative was conducted by the Constitutional Rights Foundation Chicago (CRFC), the Constitutional Rights Foundation in Los Angeles (CRF) and Street Law, Inc. with grants from the U.S. Department of Education (#Q304A040003 and #Q304A070005).
The goal of Deliberating in a Democracy was to increase the knowledge, ability and dispositions of high school teachers and their students to effectively participate in deliberations of controversial issues related to democratic principles in their countries. The program involved cohorts of high school teachers and their students from Azerbaijan , the Czech Republic, Estonia, Lithuania, Macedonia, Serbia, Romania, Russia, and Ukraine, and from Bloomington (IN), Chicago, Columbia (SC), Denver, Fairfax County (VA), Los Angeles, Montgomery County (MD), and North Jersey (NJ). Between 2004 and 2010, over 400 teachers engaged more than 20,000 secondary students in authentic civic deliberations while learning democratic principles and participating in lessons on democracy.
 
An independent evaluation conducted by the University of Minnesota in 2009 revealed that Deliberating in a Democracy was surprisingly effective in multiple cultural and educational contexts:
Over 98% of teachers reported that "almost all" of their students engaged in critical thinking during the deliberations and developed a better understanding of the issues;
Over 88% of students "agreed" or "strongly agreed" that the deliberations increased their understanding of the issues, and that they "learned a lot" from the process;
Over 77% of students reported a greater ability to state their opinions, and 72% said they developed more confidence in talking about public issues;
Almost 100% of teachers indicated that they would continue to use deliberation after the conclusion of the project.
Components
The key components of Deliberating in a Democracy are:
Professional Development
Teachers in every site spend 18 to 39 hours involved in substantive deliberations and training on conducting a classroom deliberation using Structured Academic Controversy method developed by the Johnson brothers at the University of Minnesota.
Classroom Civic Deliberations
Participating teachers conduct a minimum of three classroom deliberations chosen from a project list of 23 controversial public issues. Each deliberation uses the SAC method in class with preparatory reading completed by students in advance.
Lesson Materials on Controversial Public Issues
Materials for each question include a reading with a focus question and additional resources. Materials may be translated into partner country languages for their use.
Deliberating.org
All lesson materials and resources, as well as project and partner information, are posted online at www.deliberating.org. Participating teachers can have their students participate in polls and discuss issues on the DID Discussion Board with classes in their country and in other countries.
Exchanges between U.S. and Partner Countries
Teacher's from the U.S. and partner countries travel abroad to visit DID classrooms, meet with other teachers, officials, scholars, and participate in seminars on democracy.  
Student Conferences
Student representatives from participating classes may deliberate issues and talk with their partner country through a videoconference, web cam, and/or Skype. Students may also have the option to participate in a conference involving students from other schools at their site.  
Partners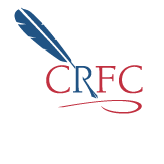 Constitutional Rights Foundation Chicago (CRFC) helps schools foster critical thinking skills and responsible civic action in students. CRFC is a national leader in the design and implementation of quality law-related education (LRE) programs for elementary and secondary school students and their teachers.
www.crfc.org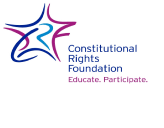 Constitutional Rights Foundation (CRF) in Los Angeles is a community-based organization dedicated to educating America's young people about the importance of civic participation in a democratic society.
www.crf-usa.org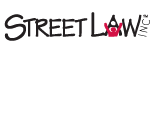 Street Law, Inc. is a nonprofit organization dedicated to providing practical, participatory education about law, democracy, and human rights. Through its philosophy and programs, people are empowered to transform democratic ideals into citizen action.
www.streetlaw.org
Sites
Evaluation
The University of Minnesota conducted an independent evaluation of Deliberating in a Democracy. The evaluation process included students, teachers, administrators, and site coordinators from each of the participating sites. Both qualitative and quantitative data were collected. Evaluations can be found below.